Create PDF files for free - FreePDF
With FreePDF You can create
PDF
files from any application. Just choose File, Print, and the printer

FreePDF

. With the results you can be seen in a print shop.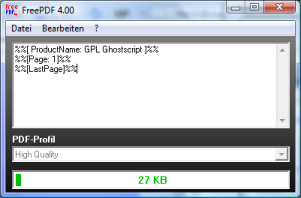 FreePDF speaks 16 languages. FreePDF can also generate many image formats like Multipage Tiff. FreePDF can merge multiple prints to a single PDF file (MultiDoc function). FreePDF can be customized for your company - features that you do not want to provide you can disable.

For special requirements, you can create printers with pre-assigned actions. Before and after the PDF creation, you can start your own programs. FreePDF can do more...
FreePDF for Windows 95/98 / NT / me (Obsolete)
The previous version of FreePDF is not new - but for old operating systems you still need old software - so you can still download
FreePDF 2
.

Donation
The development and deployment of FreePDF cost me money. If you want to support FreePDF, you can do so with a donation. Use the Paypal link or contact me by e-mail to get my German bank account number.